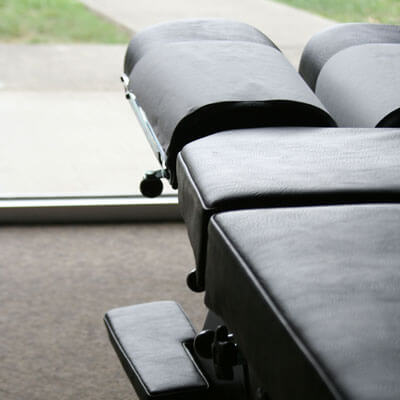 As the years go by, we continue to upgrade how we care for all ages of individuals and families. It's been truly remarkable to see lives and spines transform over the years!
We also offer thermography scans for the spine and nervous system, which many of our new patients and beloved practice members have received. These scans help us see patterns of heat that can be coming from inflammation, spinal subluxations, or lack of nerve flow.
Spinal disc herniations, degenerative discs, and long-term sciatica with or without low back pain are an ongoing challenge that millions of Americans suffer with.
While chiropractic care alone is profound for most people, there are additional spinal treatment methods that can achieve even greater benefits and results for disc issues that involve associated chronic or acute pain. We're pleased to announce that Network Chiropractic Wellness Center now offers spinal decompression in our office.
What Is It & What Can I Expect?
This is a computerized treatment table that you lie down on that targets specific regions of concern by going through a series of pumping types of movements. You will get harnessed to the table, which slowly and gently stretches your spine. And then relax.
What this process does is open up the space between spinal bones, creating a type of "respiration" of the fluid surrounding the joint. The damaged disc receives nourishment and gets rid of cellular waste, enhancing the healing process.
This treatment is done in a private setting, lasts 18-25 minutes, and can provide increased healing and regeneration to regions of the low back.
In our practice, spinal decompression treatment plans are customized to the individual. The results are incredible for over 75% of the people who receive this treatment, especially if they have suffered with chronic degenerative discs, herniations, or long-term back pain.
Wondering If Spinal Decompression Is Right for You?
If you're curious whether you're a good candidate for this treatment, please ask our front desk for a brief screening form that will help you or a loved one decide if the timing of undergoing a series of decompression visits is right for you at this time.
We even transformed one of our rooms into a gorgeous spa-like atmosphere for this special service. Next time you're here at our office, please ask our staff to take a brief glance into this new room.
Book an Appointment
Is it time to get your life back, do what you love, and say yes to feeling great again?
If you answered yes, contact us today to learn more or schedule your initial consultation!